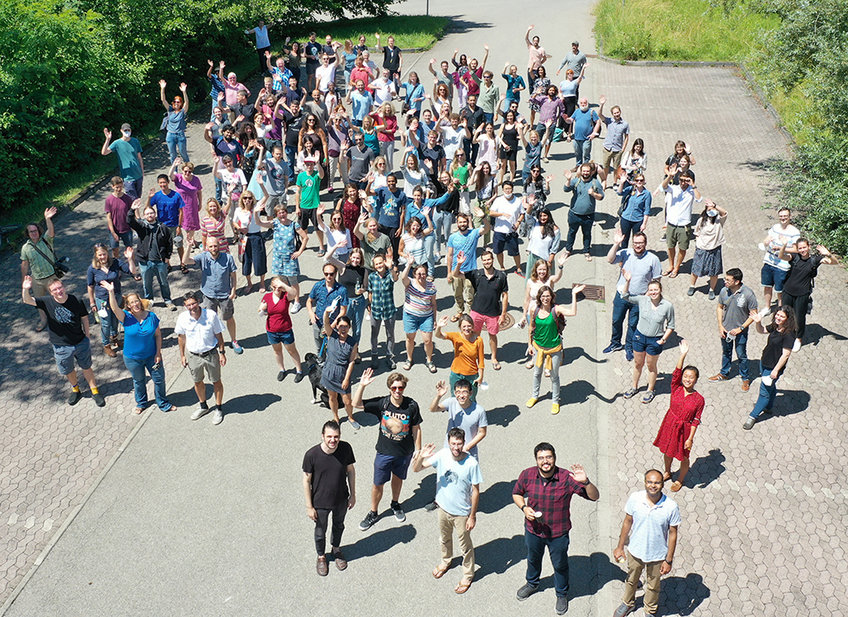 Publikationen von Bart Kranstauber
1.
Zeitschriftenartikel
Common noctules exploit low levels of the aerosphere. Royal Society Open Science
2.
Zeitschriftenartikel
First three‐dimensional tracks of bat migration reveal large amounts of individual behavioral flexibility. Ecology
3.
Zeitschriftenartikel
8
(2), S. 155 - 160 (2017)
Similarity in spatial utilization distributions measured by the earth mover's distance. Methods in Ecology and Evolution
4.
Zeitschriftenartikel
Wildlife speed cameras: Measuring animal travel speed and day range using camera traps. Remote Sensing in Ecology and Conservation
5.
Zeitschriftenartikel
How displaced migratory birds could use volatile atmospheric compounds to find their migratory corridor: A test using a particle dispersion model. Frontiers in Behavioral Neuroscience
6.
Zeitschriftenartikel
6
(24), S. 8706 - 8718 (2016)
Wind estimation based on thermal soaring of birds. Ecology and Evolution
7.
Zeitschriftenartikel
29
(10), S. 1300 - 1307 (2015)
Costs of sleeping in: Circadian rhythms influence cuckoldry risk in a songbird. Functional Ecology
8.
Zeitschriftenartikel
18
(12), S. 1338 - 1345 (2015)
Global aerial flyways allow efficient travelling. Ecology Letters
9.
Zeitschriftenartikel
Bats swarm where they hibernate: Compositional similarity between autumn swarming and winter hibernation assemblages at five underground sites. PLoS One
10.
Zeitschriftenartikel
True navigation in migrating gulls requires intact olfactory nerves. Scientific Reports
11.
Zeitschriftenartikel
83
(3), S. 681 - 692 (2014)
Individual-based measurements of light intensity provide new insights into the effects of artificial light at night on daily rhythms of urban-dwelling songbirds. Journal of Animal Ecology
12.
Zeitschriftenartikel
Bivariate Gaussian bridges: Directional factorization of diffusion in Brownian bridge models. BMC Movement Ecology
13.
Zeitschriftenartikel
5
(11), S. 1170 - 1179 (2014)
Quantifying levels of animal activity using camera-trap data. Methods in Ecology and Evolution
14.
Zeitschriftenartikel
Flying with the wind: Scale dependency of speed and direction measurements in modelling wind support in avian flight. BMC Movement Ecology
15.
Zeitschriftenartikel
81
(4), S. 738 - 746 (2012)
A dynamic Brownian bridge movement model to estimate utilization distributions for heterogeneous animal movement. Journal of Animal Ecology
16.
Zeitschriftenartikel
3
(4), S. 653 - 662 (2012)
Bias in estimating animal travel distance: The effect of sampling frequency. Methods in Ecology and Evolution
17.
Zeitschriftenartikel
214
(21), S. 3605 - 3612 (2011)
Low metabolism in a tropical bat from lowland Panama measured using heart rate telemetry: An unexpected life in the slow lane. The Journal of Experimental Biology
18.
Zeitschriftenartikel
Camera traps as sensor networks for monitoring animal communities. International Journal of Research and Reviews in Wireless Sensor Networks
19.
Zeitschriftenartikel
26
(6), S. 834 - 835 (2011)
The Movebank data model for animal tracking. Environmental Modelling and Software
20.
Zeitschriftenartikel
2
(5), S. 464 - 476 (2011)
Quantifying the sensitivity of camera traps: An adapted distance sampling approach. Methods in Ecology and Evolution
21.
Zeitschriftenartikel
Group hunting - A reason for sociality in molossid bats? PLoS One
22.
Zeitschriftenartikel
78
(6), S. 1327 - 1333 (2009)
Scatter hoarding by the Central American agouti: A test of optimal cache spacing theory. Animal Behaviour
23.
Buchkapitel
Density estimation using camera trap surveys: The random encounter model. In: Camera trapping: Wildlife management and research, S. 317 - 323 (Hg. Ballard, G.; Banks, P.; Claridge, A.; Sanderson, J.; Swann, D.). Csiro Publishing, Clayton South (2014)
24.
Bericht
Correlation-based arrangement of time series for movement analysis in behavioural ecology. (2012)
25.
Interview
move: Visualizing and analyzing animal track data. R package version 3.1.0. (2018)
26.
Software
move: Visualizing and analyzing animal track data. Free R-software package. (2013)