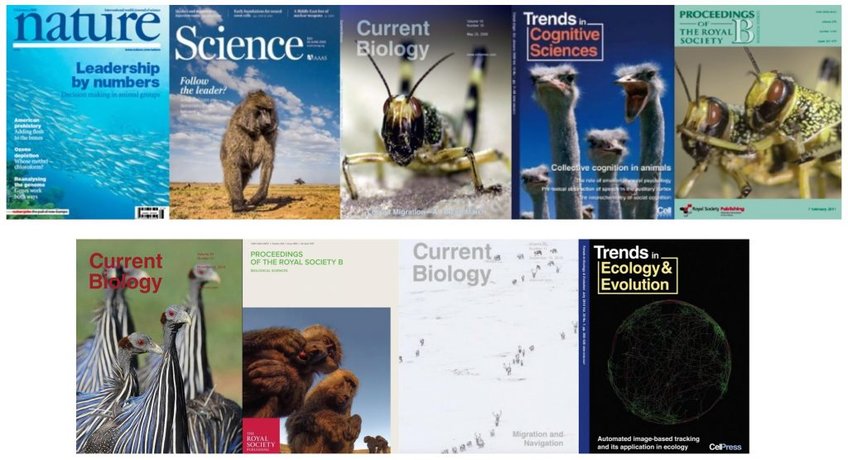 Department of Collective Behavior Publications
1.
Journal Article
88
(3), pp. 468 - 475 (2016)
KymoRod: A method for automated kinematic analysis of rod-shaped plant organs. The Plant Journal
2.
Journal Article
The kinematics of plant nutation reveals a simple relation between curvature and the orientation of differential growth. PLoS Computational Biology
3.
Journal Article
Both nearest neighbours and long-term affiliates predict individual locations during collective movement in wild baboons. Scientific Reports
4.
Journal Article
Pathways of information transmission among wild songbirds follow experimentally imposed changes in social foraging structure. Biology Letters
5.
Journal Article
Seasonal changes in neophobia and its consistency in rooks: The effect of novelty type and dominance position. Animal Behaviour
6.
Journal Article
Heterogeneous preference and local nonlinearity in consensus decision making. Physical Review Letters
7.
Journal Article
Do female Nicrophorus vespilloides reduce direct costs by choosing males that mate less frequently? Biology Letters
8.
Journal Article
283
(1822), 20152359 (2016)
The social and ecological costs of an 'over-extended' phenotype. Proceedings of the Royal Society B: Biological Sciences
9.
Journal Article
Balancing general principles with fine-scale interactions in understanding the emergence of movement-driven spatial patterns: Comment on "Phase separation driven by density-dependent movement: A novel mechanism for ecological patterns" by Quan-Xing Liu et al. Physics of Life Reviews
10.
Journal Article
School level structural and dynamic adjustments to risk promote information transfer and collective evasion in herring. Animal Behaviour
11.
Journal Article
36
(5), pp. 50 - 60 (2016)
Director's cut: Analysis and annotation of soccer matches. IEEE Computer Graphics and Applications
12.
Journal Article
Misinformed leaders lose influence over pigeon flocks. Biology Letters
13.
Book Chapter
Challenges of integrating complexity and evolution into economics. In: Complexity and evolution: Toward a new synthesis for economics, pp. 65 - 84 (Eds. Wilson, D. S.; Kirman, A.). The MIT Press, Cambridge (Mass.), London (2016)