Causes, Mechanisms and Consequences of Songbird Migration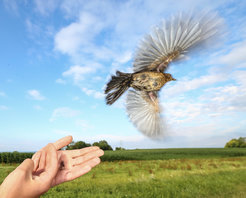 Causes, mechanisms, benefits, and consequences of a migratory life
Why do some animals migrate long distances and others do not? What makes this decision? We study these fundamental questions using the Common blackbird (Turdus merula), which is either stationary year-round, partially, or fully migratory. We use ICARUS tracking and logger technology to determine natural movement behaviour at unprecedented fine-scale temporal and spatial resolutions. In our common garden aviary facilities, we breed and experimentally manipulate environmental conditions of individuals originating from populations with different overwintering strategies. Using reciprocal translocation, we release captive and wild individuals back into each of the parents' environments to study gene by environment interactions of movement decisions.
Please contact Jesko if you are interested in working with us.
Real-time tracking of a blackbird migrating to its wintering site equipped with an air pressure tag to quantify flight altitude.
Ongoing Projects