Structure and Organization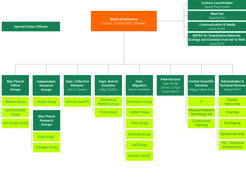 The Max Planck Institute of Animal Behavior is home to three Departments, three Max Planck Research Groups (MPRG), eight Research Groups (RG), and many professional staff. The Institute is managed by the Board of Directors, supported by the science coordinators and the heads of administration and Central Scientific Services. Every three years, the position of the institute's managing director changes from one director to the next. The MPRG leaders are appointed by the President of the Max Planck Society and enjoy an independent status within the Institute. The RG leaders are appointed by the Board of Directors based on the proposal of the respective head of the department.

Board of Directors
Prof. Dr. Iain D. Couzin, Department Collective Behavior, MPI-AB Director since 2014
Prof. Dr. Meg Crofoot, Department Ecology of Animal Societies, MPI-AB Director since 2019, Managing Director
Prof. Dr. Martin Wikelski, Department Migration, MPI-AB Director since 2012
Management, supporting the Board of Directors
Dr. Mäggi Hieber Ruiz, Head of Central Scientific Services
Dr. Daniel Piechowski, Science Coordinator
Margit Plahl, Head of Administration
Max Planck Research Group (MPRG) Leaders
Dr. Serena Ding, MPRG Genes and Behavior, since 2021
Dr. Caroline Schuppli, MPRG Development and Evolution of Cognition, since 2020
Research Group (RG) Leaders
PD Dr. Dina Dechmann, RG Ephemeral Resource Adaptations
Dr. Wolfgang Fiedler, RG Bird Movement & Animal Marking
Dr. Andrea Flack, RG Collective Migration
Dr. Barbara Fruth, RG Bonobo Behavioral Ecology
Dr. Alex Jordan, RG Integrative Behavioral Ecology
Dr. Jesko Partecke, RG Causes, Mechanisms and Consequences of Songbird Migration
Dr. Kamran Safi, RG Animal-Environment Interactions
Dr. Ariana Strandburg-Peshkin, RG Communication & Collective Movement
Max Planck Fellows
Prof. Dr. Franz Bairlein, since 2020
Dr. Maria van Noordwijk, since 2021
Prof. Dr. Carel van Schaik, since 2021
Scientific Advisory Board (SAB)
The Scientific Advisory Boards are the main instrument for evaluating the scientific performance of the institutes in the Max Planck Society. Such evaluations are imperative because they enable the Max Planck Society to justify the funds it receives, which have always been limited. Internally, the assessments broaden the decision basis of the organs of the Max Planck Society because they provide important information on the developments at individual institutes and at the Society as a whole.
Members of the Scientific Advisory Board of the MPI of Animal Behavior:
Prof. Dr. Julia Parrish (Chair of the SAB), Dept. of Biology, University of Washington
Prof. Dr. Susan C. Alberts, Dept. of Evolutionary Anthropology, Duke University
Prof. Dr. Vanessa Ezenwa, Dept. of Ecology & Evolutionary Biology, Yale University
Prof. Dr. Andrea Manica, Dept. of Zoology, University of Cambridge
Prof. Dr. Gene E. Robinson, Department of Entomology, University of Illinois at Urbana-Champaign
Prof. Dr. Jutta Schneider, Dept. of Biology, University of Hamburg
The Max Planck Society and its institutes depend upon the acceptance of the public and its willingness to support our research activities. The Boards of Trustees at the institutes aim to promote and enhance mutual understanding in their regions.
Members of the Board of Trustees of the MPI of Animal Behavior:
Dr. Alfred Bach, Pheramus
Dr. Andreas Fier, Deutsche Telekom AG
Prof. Dr. Katharina Holzinger, University of Konstanz
Dr. Wilhelm Krull, The New Institute
Dr. Caroline Liepert, Ministry of Science, Research and the Arts Baden-Württemberg
Peter Riedel, Rohde & Schwarz GmbH & Co. KG
Sue Schmid, Atelier Zobel