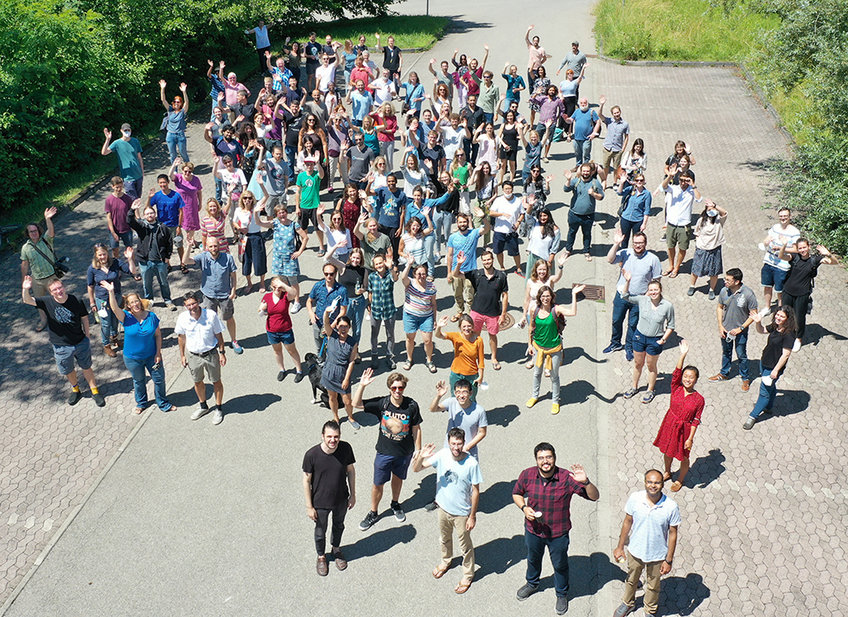 Publikationen von Ariana Strandburg-Peshkin
1.
Zeitschriftenartikel
Signalling in groups: New tools for the integration of animal communication and collective movement. Methods in Ecology and Evolution (2023)
2.
Zeitschriftenartikel
The role of position in consensus dynamics of polarizable networks. Scientific Reports
3.
Zeitschriftenartikel
Directional speakers as a tool for animal vocal communication studies. Royal Society Open Science
4.
Zeitschriftenartikel
Link updating strategies influence consensus decisions as a function of the direction of communication. Royal Society Open Science
5.
Zeitschriftenartikel
Disentangling influence over group speed and direction reveals multiple patterns of influence in moving meerkat groups. Scientific Reports
6.
Zeitschriftenartikel
Local majority-with-inertia rule can explain global consensus dynamics in a network coordination game. Social Networks
7.
Zeitschriftenartikel
289
(1979), 20220548 (2022)
Long-distance vocalizations of spotted hyenas contain individual, but not group, signatures. Proceedings of the Royal Society B: Biological Sciences
8.
Zeitschriftenartikel
Confirmation and variability of the Allee effect in Dictyostelium discoideum cell populations, possible role of chemical signaling within cell clusters. Physical Biology
9.
Zeitschriftenartikel
91
(8), S. 1567 - 1581 (2022)
A practical guide for generating unsupervised, spectrogram-based latent space representations of animal vocalizations. Journal of Animal Ecology
10.
Zeitschriftenartikel
31
(2), S. 292 - 302 (2020)
Burrow usage patterns and decision-making in meerkat groups. Behavioral Ecology
11.
Zeitschriftenartikel
Coordination event detection and initiator identification in time series data. ACM Transactions on Knowledge Discovery from Data (TKDD)
12.
Zeitschriftenartikel
28
(22), S. 3661 - 3666.e3 (2018)
Vocal turn-taking in meerkat group calling sessions. Current Biology
13.
Zeitschriftenartikel
373
(1746), 20170005 (2018)
Challenges and solutions for studying collective animal behaviour in the wild. Philosophical Transactions of the Royal Society of London, Series B: Biological Sciences
14.
Zeitschriftenartikel
373
(1746), 20170006 (2018)
Inferring influence and leadership in moving animal groups. Philosophical Transactions of the Royal Society of London, Series B: Biological Sciences
15.
Zeitschriftenartikel
284
(1853), 20162243 (2017)
Individual variation in local interaction rules can explain emergent patterns of spatial organization in wild baboons. Proceedings of the Royal Society B: Biological Sciences
16.
Zeitschriftenartikel
As dusk falls: Collective decisions about the return to sleeping sites in meerkats. Animal Behaviour
17.
Zeitschriftenartikel
Habitat and social factors shape individual decisions and emergent group structure during baboon collective movement. eLife
18.
Zeitschriftenartikel
Both nearest neighbours and long-term affiliates predict individual locations during collective movement in wild baboons. Scientific Reports
19.
Zeitschriftenartikel
Estimating uncertainty and reliability of social network data using Bayesian inference. Royal Society Open Science
20.
Zeitschriftenartikel
348
(6241), S. 1358 - 1361 (2015)
Shared decision-making drives collective movement in wild baboons. Science
21.
Zeitschriftenartikel
349
(6251), S. 935 - 936 (2015)
The wisdom of baboon decisions: Response. Science
22.
Zeitschriftenartikel
23
(17), S. R709 - R711 (2013)
Visual sensory networks and effective information transfer in animal groups. Current Biology
23.
Zeitschriftenartikel
131
(1), S. 52 - 60 (2012)
The blue streak: A dynamic trait in the mud fiddler crab, Uca pugnax. Invertebrate Biology
24.
Zeitschriftenartikel
Creation of prompt and thin-sheet splashing by varying surface roughness or increasing air pressure. Physical Review Letters
25.
Hochschulschrift - Doktorarbeit
From fish schools to primate societies: The dynamics of collective movement in animal groups. Dissertation, 191 S. (2016)