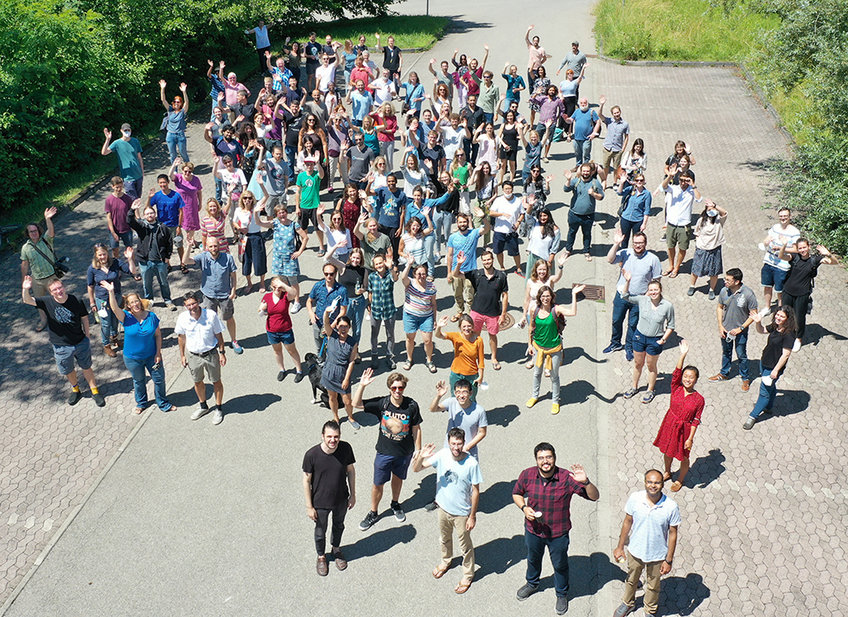 Publikationen von Martin Wikelski
1.
Zeitschriftenartikel
Evaluating expert-based habitat suitability information of terrestrial mammals with GPS-tracking data. Global Ecology and Biogeography (2022)
2.
Zeitschriftenartikel
Arctic migratory raptor selects nesting area during the previous breeding season. Frontiers in Ecology and Evolution
3.
Zeitschriftenartikel
Differences in on-ground and aloft conditions explain seasonally different migration paths in Demoiselle crane. BMC Movement Ecology
4.
Zeitschriftenartikel
13
(4), S. 813 - 825 (2022)
Ecological inference using data from accelerometers needs careful protocols. Methods in Ecology and Evolution
5.
Zeitschriftenartikel
Hotspots in the grid: Avian sensitivity and vulnerability to collision risk from energy infrastructure interactions in Europe and North Africa. Journal of Applied Ecology (2022)
6.
Zeitschriftenartikel
Comparative genomics of the waterfowl innate immune system. Molecular Biology and Evolution
7.
Zeitschriftenartikel
37
(4), S. 293 - 298 (2022)
Biological Earth observation with animal sensors. Trends in Ecology and Evolution
8.
Zeitschriftenartikel
13
(3), S. 419 - 431 (2022)
The Movebank system for studying global animal movement and demography. Methods in Ecology and Evolution
9.
Zeitschriftenartikel
MoveApps: a serverless no-code analysis platform for animal tracking data. BMC Movement Ecology
10.
Zeitschriftenartikel
19
(193), 20220168 (2022)
The role of wingbeat frequency and amplitude in flight power. Interface: Journal of the Royal Society
11.
Zeitschriftenartikel
ICARUS-very low power satellite-based IoT. Sensors
12.
Zeitschriftenartikel
377
(6607), S. 764 - 768 (2022)
Individual tracking reveals long-distance flight-path control in a nocturnally migrating moth. Science
13.
Zeitschriftenartikel
Factors influencing wind turbine avoidance behaviour of a migrating soaring bird. Scientific Reports
14.
Zeitschriftenartikel
The species‑specificity of energy landscapes for soaring birds, and its consequences for transferring suitability models across species. Landscape Ecology (2022)
15.
Zeitschriftenartikel
Perspectives in machine learning for wildlife conservation. Nature Communications
16.
Zeitschriftenartikel
Internet on animals: Wi-Fi-enabled devices provide a solution for big data transmission in biologging. Methods in Ecology and Evolution (2022)
17.
Zeitschriftenartikel
58
(7), S. 1411 - 1420 (2021)
Use of avian GPS tracking to mitigate human fatalities from bird strikes caused by large soaring birds. Journal of Applied Ecology
18.
Zeitschriftenartikel
Priority areas for vulture conservation in the Horn of Africa largely fall outside the protected area network. Bird Conservation International, S. 1 - 18 (2021)
19.
Zeitschriftenartikel
Individual environmental niches in mobile organisms. Nature Communications
20.
Zeitschriftenartikel
Ancillary data from animal-borne cameras as an ecological survey tool for marine communities. Marine Biology
21.
Zeitschriftenartikel
Wing tags severely impair movement in African Cape Vultures. Animal Biotelemetry
22.
Zeitschriftenartikel
Circadian and seasonal patterns of body temperature in arctic migratory and temperate non-migratory geese. Frontiers in Ecology and Evolution
23.
Zeitschriftenartikel
GPS-profiling of retrograde navigational impairments associated with hippocampal lesion in homing pigeons. Behavioural Brain Research
24.
Zeitschriftenartikel
33
(3), S. 321 - 337 (2021)
The homing pigeons' olfactory map is affected by geographical barriers. Ethology, Ecology & Evolution
25.
Zeitschriftenartikel
Fine-scale changes in speed and altitude suggest protean movements in homing pigeon flights. Royal Society Open Science
26.
Zeitschriftenartikel
Health monitoring in birds using bio‑loggers and whole blood transcriptomics. Scientific Reports
27.
Zeitschriftenartikel
24
(7), S. 1432 - 1442 (2021)
Efficient movement strategies mitigate the energetic cost of dispersal. Ecology Letters
28.
Zeitschriftenartikel
A partial migrant relies upon a range‑wide cue set but uses population‑specific weighting for migratory timing. BMC Movement Ecology
29.
Zeitschriftenartikel
376
(1830), 20200213 (2021)
A songbird adjusts its heart rate and body temperature in response to season and fluctuating daily conditions. Philosophical Transactions of the Royal Society of London, Series B: Biological Sciences
30.
Zeitschriftenartikel
27
(2), S. 1623 - 1633 (2021)
MultiSegVA: Using visual analytics to segment biologging time series on multiple scales. IEEE Transactions on Visualization and Computer Graphics
31.
Zeitschriftenartikel
288
(1958), 20211603 (2021)
The interplay of wind and uplift facilitates over-water flight in facultative soaring birds. Proceedings of the Royal Society B: Biological Sciences
32.
Zeitschriftenartikel
31
(6), S. 1311 - 1316 (2021)
Bats use topography and nocturnal updrafts to fly high and fast. Current Biology
33.
Zeitschriftenartikel
90
(9), S. 2161 - 2171 (2021)
Longer days enable higher diurnal activity for migratory birds. Journal of Animal Ecology
34.
Zeitschriftenartikel
Early-life behaviour predicts first-year survival in a long-distance avian migrant. Proceedings of the Royal Society B: Biological Sciences
35.
Zeitschriftenartikel
Black kites of different age and sex show similar avoidance responses to wind turbines during migration. Royal Society Open Science
36.
Zeitschriftenartikel
163
(3), S. 1110 - 1119 (2021)
Estimating nest‐switching in free‐ranging wild birds: An assessment of the most common methodologies, illustrated in the White Stork (Ciconia ciconia). Ibis
37.
Zeitschriftenartikel
127
(3), S. 307 - 308 (2021)
Response to Zöller et al.'s critique on "Potential short-term earthquake forecasting by farm-animal monitoring". Ethology
38.
Zeitschriftenartikel
Smell of green leaf volatiles attracts white storks to freshly cut meadows. Scientific Reports
39.
Zeitschriftenartikel
376
(1831), 20200230 (2021)
Future trends in measuring physiology in free-living animals. Philosophical Transactions of the Royal Society of London, Series B: Biological Sciences
40.
Zeitschriftenartikel
Simulation experiment to test strategies of geomagnetic navigation during long-distance bird migration. BMC Movement Ecology
41.
Zeitschriftenartikel
Causes and consequences of facultative sea crossing in a soaring migrant. Functional Ecology
42.
Zeitschriftenartikel
Overland and oversea migration of white storks through the water barriers of the straits of Gibraltar. Scientific Reports
43.
Zeitschriftenartikel
Foraging movements are density-independent among straw-coloured fruit bats. Royal Society Open Science
44.
Zeitschriftenartikel
Assessing roost disturbance of straw-coloured fruit bats (Eidolon helvum) through tri-axial acceleration. PLoS One
45.
Zeitschriftenartikel
Arctic avian predators synchronise their spring migration with the northern progression of snowmelt. Scientific Reports
46.
Zeitschriftenartikel
Ecological insights from three decades of animal movement tracking across a changing Arctic. Science
47.
Zeitschriftenartikel
Seasonal niche tracking of climate emerges at the population level in a migratory bird. Proceedings of the Royal Society B: Biological Sciences
48.
Zeitschriftenartikel
Daily energy expenditure in white storks is lower after fledging than in the nest. The Journal of Experimental Biology
49.
Zeitschriftenartikel
Importance of the hippocampus for the learning of route fidelity in homing pigeons. Biology Letters
50.
Zeitschriftenartikel
Pigeons remember visual landmarks after one release and rely upon them more if they are anosmic. Animal Behaviour