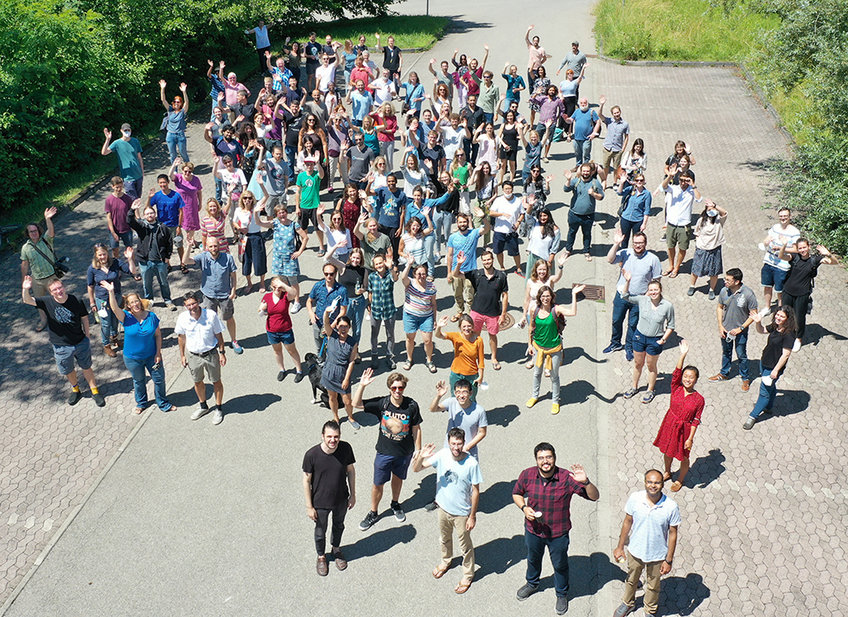 Publikationen von Manfred Gahr
1.
Zeitschriftenartikel
The hidden structural variability in avian genomes. bioRxiv: the preprint server for biology (2023)
2.
Zeitschriftenartikel
Sparse ensemble neural code for a complete vocal repertoire. Cell Reports
3.
Zeitschriftenartikel
Vision and vocal communication guide three-dimensional spatial coordination of zebra finches during wind-tunnel flights. Nature Ecology & Evolution
4.
Zeitschriftenartikel
Vocal performance during spontaneous song is equal in male and female European robins. Animal Behaviour
5.
Zeitschriftenartikel
128
(1), S. 61 - 69 (2022)
Context-sensitive dance-vocal displays affect song patterns and partner responses in a socially monogamous songbird. Ethology
6.
Zeitschriftenartikel
Extensive GJD2 expression in the song motor pathway reveals the extent of electrical synapses in the songbird brain. Biology
7.
Zeitschriftenartikel
16
(4), S. 784 - 796 (2021)
Highly efficient genome modification of cultured primordial germ cells with lentiviral vectors to generate transgenic songbirds. Stem Cell Reports
8.
Zeitschriftenartikel
The gene expression profile of the song control nucleus HVC shows sex specificity, hormone responsiveness, and species specificity among songbirds. Frontiers in Neuroscience
9.
Zeitschriftenartikel
38
(1), S. 108 - 127 (2021)
An unbiased molecular approach using 3'-UTRs resolves the avian family-level tree of life. Molecular Biology and Evolution
10.
Zeitschriftenartikel
The multifaceted vocal duets of white-browed sparrow weavers are based on complex duetting rules. Journal of Avian Biology
11.
Zeitschriftenartikel
Functional differences in the hypothalamic-pituitary-gonadal axis are associated with alternative reproductive tactics based on an inversion polymorphism. Hormones and Behavior
12.
Zeitschriftenartikel
Neuroendocrine patterns underlying seasonal song and year-round territoriality in male black redstarts. Frontiers in Zoology
13.
Zeitschriftenartikel
162
(4), S. 1163 - 1172 (2021)
Seasonal and diurnal variation of vocal behaviour in duetting White-browed Sparrow Weavers. Journal of Ornithology
14.
Zeitschriftenartikel
Life-stage dependent plasticity in the auditory system of a songbird is signal and emitter-specific. Frontiers in Neuroscience
15.
Zeitschriftenartikel
Fast retrograde access to projection neuron circuits underlying vocal learning in songbirds. Cell Reports
16.
Zeitschriftenartikel
117
(38), S. 23311 - 23316 (2020)
Acute social isolation alters neurogenomic state in songbird forebrain. Proceedings of the National Academy of Sciences of the United States of America
17.
Zeitschriftenartikel
31
(1), S. 247 - 260 (2020)
Genetic monogamy despite frequent extrapair copulations in "strictly monogamous" wild jackdaws. Behavioral Ecology
18.
Zeitschriftenartikel
Characteristics of song, brain-anatomy and blood androgen levels in spontaneously singing female canaries. Hormones and Behavior
19.
Zeitschriftenartikel
Vocal tract anatomy of king penguins: Morphological traits of two-voiced sound production. Frontiers in Zoology
20.
Zeitschriftenartikel
40
(32), S. 6219 - 6227 (2020)
Neurotelemetry reveals putative predictive activity in HVC during call-based vocal communications in zebra finches. The Journal of Neuroscience
21.
Zeitschriftenartikel
The hummingbird syrinx morphome: A detailed three-dimensional description of the black jacobin's vocal organ. BMC Zoology
22.
Zeitschriftenartikel
The genome of blue-capped cordon-bleu uncovers hidden diversity of LTR retrotransposons in zebra finch. Genes
23.
Zeitschriftenartikel
Tissue clearing and light sheet microscopy: Imaging the unsectioned adult zebra finch brain at cellular resolution. Frontiers in Neuroanatomy
24.
Zeitschriftenartikel
Expansion light sheet microscopy resolves subcellular structures in large portions of the songbird brain. Frontiers in Neuroanatomy
25.
Zeitschriftenartikel
Duets recorded in the wild reveal that interindividually coordinated motor control enables cooperative behavior. Nature Communications
26.
Zeitschriftenartikel
Die neuronalen Grundlagen von Duettgesang – eine neurophysiologische Freilandstudie. Jahrbuch - Max-Planck-Gesellschaft (2019)
27.
Zeitschriftenartikel
Steroid receptors and their regulation in avian extraembryonic membranes provide a novel substrate for hormone mediated maternal effects. Scientific Reports
28.
Zeitschriftenartikel
222
(7), jeb193961 (2019)
Avian yolk androgens are metabolized instead of taken up by the embryo during the first days of incubation. The Journal of Experimental Biology
29.
Zeitschriftenartikel
125
(5), S. 276 - 288 (2019)
Food sharing and affiliation: An experimental and longitudinal study in cockatiels (Nymphicus hollandicus). Ethology
30.
Zeitschriftenartikel
156
(5-8), S. 691 - 720 (2019)
Two macaw species can learn to solve an optimised two-trap problem, but without functional causal understanding. Behaviour
31.
Zeitschriftenartikel
Accelerated redevelopment of vocal skills is preceded by lasting reorganization of the song motor circuitry. eLife
32.
Zeitschriftenartikel
204
(1), S. 113 - 126 (2018)
Androgen and estrogen sensitivity of bird song: A comparative view on gene regulatory levels. Journal of Comparative Physiology A-Neuroethology Sensory Neural and Behavioral Physiology
33.
Zeitschriftenartikel
28
(7), S. R315 - R317 (2018)
Vocal communication: Decoding sexy songs. Current Biology
34.
Zeitschriftenartikel
Gonadal steroid levels in rock pigeon eggs do not represent adequately maternal allocation. Scientific Reports
35.
Zeitschriftenartikel
Early embryonic modification of maternal hormones differs systematically among embryos of different laying order: A study in birds. General and Comparative Endocrinology
36.
Zeitschriftenartikel
Emotional responses to conspecific distress calls are modulated by affiliation in cockatiels (Nymphicus hollandicus). PLoS One
37.
Zeitschriftenartikel
Couples showing off: Audience promotes both male and female multimodal courtship display in a songbird. Science Advances
38.
Zeitschriftenartikel
Seasonality at the equator: Isotope signatures and hormonal correlates of molt phenology in a non-migratory Amazonian songbird. Frontiers in Zoology
39.
Zeitschriftenartikel
Individual recognition of opposite sex vocalizations in the zebra finch. Scientific Reports
40.
Zeitschriftenartikel
Comparative cytogenetics between two important songbird models: The zebra finch and the canary. PLoS One
41.
Zeitschriftenartikel
220
(24), S. 4681 - 4688 (2017)
Neuromuscular mechanisms of an elaborate wing display in the golden-collared manakin (Manacus vitellinus). The Journal of Experimental Biology
42.
Zeitschriftenartikel
Power-law scaling of calling dynamics in zebra finches. Scientific Reports
43.
Zeitschriftenartikel
26
(2), S. 161 - 168 (2017)
Songbird tap dancing produces non-vocal sounds. Bioacoustics
44.
Zeitschriftenartikel
Seasonal singing of a songbird living near the equator correlates with minimal changes in day length. Scientific Reports
45.
Zeitschriftenartikel
7
(11), S. 1349 - 1358 (2016)
A minimum-impact, flexible tool to study vocal communication of small animals with precise individual-level resolution. Methods in Ecology and Evolution
46.
Zeitschriftenartikel
Dawn-song onset coincides with increased HVC androgen receptor expression but is decoupled from high circulating testosterone in an equatorial songbird. Physiology & Behavior
47.
Zeitschriftenartikel
Natural melatonin fluctuation and its minimally invasive simulation in the zebra finch. PeerJ
48.
Zeitschriftenartikel
Wie Geschlechtshormone den Vogelgesang regulieren. Jahrbuch - Max-Planck-Gesellschaft (2015)
49.
Zeitschriftenartikel
Using the canary genome to decipher the evolution of hormone-sensitive gene regulation in seasonal singing birds. Genome Biology
50.
Zeitschriftenartikel
Differential expression of melatonin receptor subtypes MelIa, MelIb and MelIc in relation to melatonin binding in the male songbird brain. Brain, behavior and evolution: Official journal of the J. B. Johnston Club