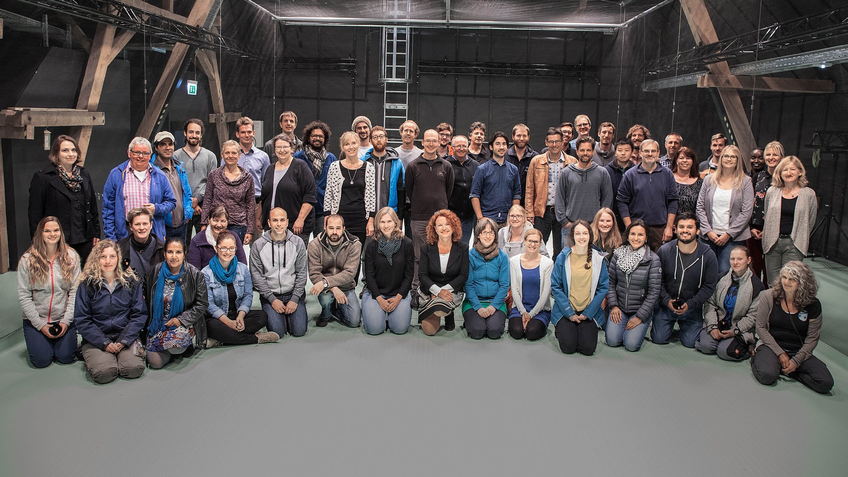 Publications of Keren Sadanandan
1.
Journal Article
379
(6628), pp. 185 - 190 (2023)
Loss of a gluconeogenic muscle enzyme contributed to adaptive metabolic traits in hummingbirds. Science
2.
Journal Article
Historic samples reveal loss of wild genotype through domestic chicken introgression during the Anthropocene. PLoS Genetics
3.
Journal Article
Synergism, bifunctionality, and the evolution of a gradual sensory trade-off in hummingbird taste receptors. Molecular Biology and Evolution
4.
Journal Article
Genomes from historic DNA unveil massive hidden extinction and terminal endangerment in a tropical Asian songbird radiation. Molecular Biology and Evolution
5.
Journal Article
14
(3), pp. 698 - 709 (2021)
Using historical genome‐wide DNA to unravel the confused taxonomy in a songbird lineage that is extinct in the wild. Evolutionary Applications
6.
Journal Article
163
(1), pp. 38 - 51 (2021)
Genomic and morphological data help uncover extinction-in-progress of an unsustainably traded hill myna radiat. Ibis
7.
Journal Article
Phylogenomics of white-eyes, a "great speciator", reveals Indonesian archipelago as the center of lineage diversity. eLife
8.
Journal Article
The conservation value of admixed phenotypes in a critically endangered species complex. Scientific Reports
9.
Journal Article
72
(2), pp. 133 - 142 (2020)
Population assessment of the house crow, Corvus splendens, in Singapore. Malayan Nature Journal
10.
Journal Article
22
(2), pp. 213 - 225 (2019)
Vegetation on and around large-scale buildings positively influences native tropical bird abundance and bird species richness. Urban Ecosystems
11.
Journal Article
11
(8), pp. 2332 - 2343 (2019)
Gene flow in the Müllerian mimicry ring of a poisonous Papuan songbird clade (Pitohui; Aves). Genome Biology and Evolution
12.
Journal Article
160
(1), pp. 1 - 16 (2019)
Molecular evidence suggests radical revision of species limits in the great speciator white-eye genus Zosterops. Journal of Ornithology
13.
Journal Article
Population divergence and gene flow in two East Asian shorebirds on the verge of speciation. Scientific Reports
14.
Journal Article
159
(2), pp. 575 - 579 (2018)
Genetic and biometric variation across the fragmented range of Jerdon's Babbler, Chrysomma altirostre, a threatened Oriental grassland specialist. Journal of Ornithology
15.
Journal Article
Survey of the avifauna of Giang Man proposed nature reserve, Quang Binh province, Vietnam. Forktail
16.
Journal Article
4250
(5), pp. 401 - 433 (2017)
Speciation in Indo-Pacific swiftlets (Aves: Apodidae): Integrating molecular and phenotypic data for a new provisional taxonomy of the Collocalia esculenta complex. Zootaxa; Magnolia Press, Auckland, New Zealand
17.
Journal Article
30
(3), pp. 610 - 617 (2016)
A robust nonparametric method for quantifying undetected extinctions. Conservation Biology
18.
Journal Article
Ancient horizontal transfers of retrotransposons between birds and ancestors of human pathogenic nematodes. Nature Communications
19.
Journal Article
6
(1), pp. 78 - 90 (2016)
Population genetics of the olive‐winged bulbul (Pycnonotus plumosus) in a tropical urban‐fragmented landscape. Ecology and Evolution
20.
Journal Article
117
(3), pp. 447 - 459 (2015)
Genetic diversity of a tropical rainforest understory bird in an urban fragmented landscape. The Condor
21.
Journal Article
DNA reveals long-distance partial migratory behavior in a cryptic owl lineage. Avian Research