3 Questions: an art-science program probes how we learn about the animal world
Hemal Naik and Helene Sommer discuss how an MPI-AB residency program cultivates curiosity about the creation and communication of animal behavior knowledge
At their core, art and science are both about observing, interpreting, and creating. Yet in today's society, art and science often reside in separate cultural and institutional spheres. A transdisciplinary program from the Max Planck Department for the Ecology of Animal Societies and the Akademie Schloss Solitude seeks to bridge that gap by bringing artists and scientists together for 6-week residencies. Last year, the program hosted its first fellows: visual artist Helene Sommer and scientist Hemal Naik. In May, Sommer and Naik will present their work as part of the transdisciplinary workshop »Vital Currencies« at the artists' residence Akademie Schloss Solitude.
The Department for the Ecology of Animal Societies (EAS) at MPI-AB is a collective of 50 biologists united in a single mission—to understand how animals living in stable groups, or societies, come together to make decisions in the wild. To do this, the scientists travel to field sites scattered across Africa, Asia, and the Americas where they brave bad weather and tropical diseases to observe and analyze the behaviors of mammals with sophisticated social lives. Last year, the department added a new field site to its global network: the Akademie Schloss Solitude in Stuttgart.
The Akademie Schloss Solitude is an international and transdisciplinary Artist-in-Residence program that has supported over 1,600 artists and scientists from more than 120 countries since opening its doors in 1990. In partnership with the Akademie, the EAS launched a four-year Artist-In-Residence program with the aim of fostering interdisciplinary exchange of ideas and perspectives between the arts and sciences. The bilateral program, called Field Trip, opens the doors for an artist to visit the EAS in Konstanz, and, in return, for an EAS scientist to visit the Akademie in Stuttgart. The 6-week residencies provide a unique opportunity for artists and scientists to gain fresh perspectives on how we understand the world and our place in it.
Meg Crofoot, the director of EAS, says that the art-science program fits to her department's overall mission: "In science, a field trip is about so much more than gathering data. It offers a place to connect with different people, an experience of being in a new environment, and an opportunity to experiment with ideas.
"In the same way, residents of the Field Trip program will combine creativity with lived experience to spark truly experimental ideas about our own societies and those that exist in nature."
The Field Trip program kicked off in July 2022 when the visual artist, Helene Sommer, visited the MPI-AB. Originally from Norway, Sommer works primarily with video, collage, text, and installation. Through these mediums, she questions the way we understand and relate to our surroundings and its history. For example, a recent project set in the woods near Oslo created a beguiling window into the world of wetlands. In a glass-walled showroom, Sommer created an installation in which underwater footage and sound recorded from a local pond were projected along with scrolling text pondering biological, historical, and political processes.
During her residency at the MPI-AB, Sommer explored the way scientists study animal behavior. By interviewing scientists and observing research in the lab and in the field, the film-maker gained a glimpse of the mechanics of knowledge production.
"It was an incredible privilege to see into the minds of people forging new knowledge about wild animals," says Sommer. "In a sense, my experience was a meta-study of the scientific process. While scientists at EAS were studying animal societies, I was studying the scientists studying those societies."
Later in the year, the Akademie welcomed MPI-AB researcher Hemal Naik for the second part of the 2022 program. Naik, a postdoctoral researcher working with the EAS, is part of the project MELA with a focus on studying lekking—a rare mating behavior of Blackbucks (antelopes) in India. While at the Akademie, Naik explored multi-media storytelling as a tool for depicting the relationship between humans and animals. Specifically, he hopes to use art as a way of engaging the local communities who live alongside the Blackbucks with the scientific quest to understand the animals and their unique mating system.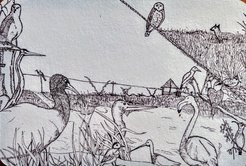 "My primary intention is to reflect on existing scientific practices and question the existing model of knowledge dissemination," says Naik. "I am closely interested in the improving the practice of knowledge dissemination within the communities where we conduct our research."
In 2023, the Field Trip program will continue with a new artist, Yashas Shetty, who will travel to the MPI-AB in Konstanz for a 6-week residency.
The 2022 Field Trip program will conclude in at the end of the month, when Sommer and Naik join other artists and researchers at the transdisciplinary workshop "Vital Currencies. Derivates of more-than-human encounters" where the pair will showcase the works created during their residencies. The two-day event held on May 26-27 at the Akademie in Stuttgart will present performances, talks, walks, film screenings and readings by the different artists and researchers that aim to produce a shared sense of belonging between landscapes, humans and animals.
Before "Vital Currencies" opens, Sommer and Naik discuss how their experience in the Field Trip program inspired their work.
How do you think artists and scientists can inform each other?
Sommer: I think getting an insight into other perspectives is the best we can hope for. For the artist, (speaking personally) it's about understanding how knowledge is formed; and for the scientist, perhaps challenging the way stories are told and the many ways of understanding the world. Some of the partnerships I find less interesting is when it's from a purely visual perspective: the artist becomes an illustrator and the scientist a producer of facts and truth. More interesting is to feed off each other's world views, asking questions and exchanging perspectives on the society we live in.
Naik: Both artists and scientists are fundamentally driven by human curiosity. I believe that art and science are two different ways of understanding the world around us. For this reason, I think both will always have something to offer to each other. In our current climate, I think both can benefit from having a dialogue on how to become more accessible to people beyond socio-economic boundaries.
What did you discover in your journey to the intersection of each field?
Sommer: I was happy to find a diversity of voices in science, and I was happy to find a lot of creativity and genuine curiosity. I also got more of an insight into the mechanisms of knowledge production, which is perhaps even more complex than I initially thought.
Naik: I discovered that there is a bridge to be crossed when working at the intersection of the fields. I loved spending time with different artists and getting to know their thoughts and ideas in each of their projects. I discovered that there is a lot more depth that goes into the work, which cannot always be seen in the output. It's relatable to science, where most of the focus is on the discovery, and not on how an individual or a group came to this idea or what work went into achieving the result.
Did anything surprise you?
Sommer: I was positively surprised by everyone's openness in sharing their process and their world. I met a lot of scientists who were very passionate about their work, which I very much appreciated and can relate to. The experience of being around scientists did prompt a curiosity about discussing the philosophical aspect of the scientific process. In an ideal world there would be a philosopher or historian of science tied to every scientific institute.
Naik: I am trained in science or at least I know how scientists work in multiple fields. I was surprised to get insight into artistic practices through my residency. My biggest surprise is how science and arts are valued differently in terms of monetary investments from the point of view of society.