MoveApps wins 2022 Conservation Tech Award
The movement analysis platform was awarded the prize for leveraging animal tracking's Big Data to safeguard wildlife across the globe.
MoveApps—a platform hosted by the Max Planck Institute of Animal Behavior (MPI-AB) for analyzing animal movement data—has been named a grantee of the Conservation Technology Award by EarthRanger, a program of the Allen Institute for AI. The award honors initiatives that use technology to make a positive impact in conservation management. MoveApps, one of only two winners out of 125 applicants, will receive a $15,000 grant to further its role in making bio-logging data part of conservation efforts.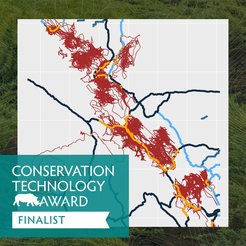 MoveApps is a free and open-source no-code analysis platform that lets scientists and wildlife managers quickly and easily glean insights from animal movement data. The platform is a collaboration by MPI-AB researchers, the Max Planck Computing and Data Facility, and the Communication, Information, Media Centre at the University of Konstanz.
In many ways, the study of wildlife movement data is having its Big Data moment. High-tech, low-cost devices such as animal collars are putting more data than ever before into the hands of researchers and conservationists.
But so far, only those with skills to wrangle these data can take advantage of this so-called "golden age" of animal tracking. Launched in February this year, MoveApps provides wildlife managers with the ability to quickly and easily run complex analyses to uncover new insights. In doing so, it offers the ability to see—in near real-time—rapidly evolving situations putting wildlife at threat.
MoveApps is based on an innovative concept that unites programmers with data owners needing analytical tools. While programmers develop tools that become openly available on the platform, users can browse these tools and run analyses with a few simple clicks on a user-friendly web-based interface. A ranger could use the system to keep an eye on tracked animals in the park, creating a daily map showing, for example, where animals are clustering around a common food source. The result is more democratized access to the latest conservation technology tools and data insights—ultimately improving the conservation process for organizations around the world.
Andrea Kölzsch, MoveApps project lead and postdoc at MPI-AB, says that the Conservation Tech Award will help MoveApps expand with new software tools that can help more organizations with customized conservation platforms.
"We are honored and thrilled, as this award confirms to us that MoveApps is on the right track," says Kölzsch. "Bringing together code developers and data collectors in our open-source, interactive platform will boost what is possible to gain from biologging data."
"The award from Earth Ranger emphasizes the impact that MoveApps can have for conservation intervention around the world. We hope to develop more use cases for wildlife protection, empowering experts to implement their analysis ideas."
Kamran Safi, a group leader at MPI-AB who founded MoveApps, says that the site grew out of an urgent need to crowdsource talent for turning animal tracking's Big Data into solutions for big problems.
"The urgency in conservation and the sheer mountain of challenges require that we join our forces to use all our cleverness and ingenuity with maximum efficiency. MoveApps was made for bringing people with different skills, resources, and needs together to make a difference fast in a transparent and equitable way," he says.
Safi adds that the award will help MoveApps give programmers a way to contribute their skills to conservation. "Through this award, we can accelerate our mission of being a place for people to join forces to make a positive difference regardless of where they are and who they are."
A grant to boost conservation
EarthRanger provides software solutions that aid protected area managers, ecologists, and wildlife biologists in making more informed operational decisions for wildlife conservation. Now in its second year, EarthRanger's Conservation Tech Award was designed to spotlight and help accelerate innovative and impactful work in wildlife and ecological conservation. Out of a pool of more than 125 applications, the 2022 winners were MoveApps and Club Arribada, a free after-school conservation technology program. Both initiatives will receive a $15,000 grant to use as they see fit.
"We received an extraordinary number of submissions of innovative and impactful programs from all over the world," said EarthRanger Director Jes Lefcourt. "We're thrilled that we can recognize the inspirational work of Club Arribada and MoveApps."
The selection committee, comprising representatives from conservation technology organizations, including Google, Andes Amazon Fund, African Parks, California Institute of Technology and Harvard University praised the platform's development of sharable software solutions for ecological data.
"MoveApps is a great example of the power and potential for impact of sustained, centralized software engineering efforts for ecological data, and will serve as a scaffold for the development of similar standardized workflows and sharable analytical tools for other ecological data sources," said Sara Beery, a Conservation Tech Award judge and Assistant Professor at MIT.
"I'm thrilled that MoveApps was selected for this award and I'm excited to see how this community will grow."