Emily Shepard receives ZSL Scientific Medal
Zoological Society of London honors Max Planck sabbatical visitor for outstanding contributions to movement ecology research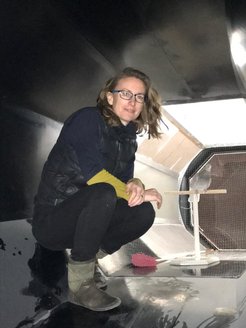 Emily Shepard, Professor at Swansea University and recipient of a Max Planck Sabbatical Award, has been selected for the Zoological Society of London (ZSL) Scientific Medal for 2021. The ZSL Scientific Medal is awarded for outstanding contributions by an early career researcher, with up to 15 years postdoctoral experience, for distinguished work in Zoology. Up to three medals are awarded annually.
The ZSL prize citation notes that Shepard is "an outstanding researcher in the movement ecology of wild animals." A professor in Biosciences at Swansea University in Wales, Shepard received a Max Planck Sabbatical Award for research stays at the Max Planck Institute of Animal Behavior (MPI-AB) in 2020 and 2021. During those stays Shepard lent her expertise on the use of multisensory tags in understanding how birds extract energy form the landscape. Collaborations with MPI-AB researchers have fostered projects on a range of topics, including investigating how seabirds cope with storms and the cost of transport for various species of birds.
Shepard's work focuses on how bird flight is affected by airflows, using both biologging technologies in the field, experimental work in wind tunnels, and theoretical models of air flows and flight mechanics. According the ZSL citation: "This novel research has involved the use of computational fluid dynamics to model airflows at local scale. In addition, Emily's use of high-frequency tagging data has provided fascinating insights into the flight strategies of condors. This has involved the development of high-frequency sensors that enable quantification of flight effort and flight strategy. Emily's ground-breaking research has advanced our understanding of how birds exploit airflows to their advantage, and the environmental conditions that constrain them in terms of their movements, habitat use or energy expenditure.
"Emily is recognized as a global leader in this research area, and her contributions to the scientific literature simply cannot be missed. Many of her papers are already seen as classics, and bound to become timeless achievements in the realm of zoological scientific discoveries."
The ZSL Scientific Medal has previously been awarded to MPI-AB director Iain Couzin. Couzin received the honor in 2013, as a Professor at Princeton University, for research on the collective behavior and structural dynamics of groups.