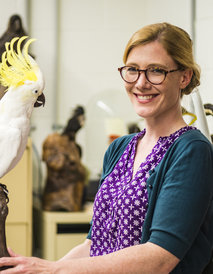 Affiliated Scientist
IMPRS Faculty
Max Planck Research Group Aplin
Main Focus
I study social learning, social networks and culture, mostly in wild populations of birds. Broadly, I am interested in the interactions between cognition, social dynamics and transmission of behaviour.
My current and past work has asked questions like: what is the process by which new behaviours emerge, spread and persist in animal populations? Can the cultural inheritance of information form an important component of a species' life history? Can culture evolve? If so what is the relationship between cultural evolution, cognition and demographics? 
Recently, I have added a second focus to my work, asking how social cognition and culture can influence the ability of species to exhibit rapid behavioural adaptation, through diffusion of innovation and cultural inheritance. Urban areas are perhaps the most highly modified and rapidly changing environments on the planet, and so we look at this question in the context of urban persistence and colonisation. 
For more information, see my lab website: https://sites.google.com/site/lucymaplin/home
Curriculum Vitae
since

202

2:

ERC Professor, Department of Evolutionary Biology & Environmental Studies, University of Zurich

since 2022

: Senior Lecturer, Research School of Biology, Australian

National University
2018-2021: Max Planck Research Group Leader, Max Planck Institute for Ornithology, Radolfzell, Germany
2015-2017: Junior Research Fellow, St John's College & Department of Zoology, University of Oxford, U.K.

2014-2015: B.B.S.R.C. Postdoctoral Researcher, Department of Zoology, University of Oxford, U.K.
2010-2014: PhD, Research School of Biology, Australian National University
2003-2009: Bachelor of Science (Hons), Australian National University
2003-2009: Bachelor of Laws, Australian National University