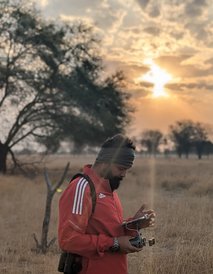 © HemalNaik
Postdoc
Department for the Ecology of Animal Societies
Main Focus
Key Words : UAV, Computer Vision, AI,  AR-VR, Ecology, Art   

My research focuses on developing computer vision algorithms for practical applications. I prefer to work on concepts which can be implemented in near future to improve existing practices or methods. I am learning how to identify similar problems in different fields and transfer solutions from one field to another. My future goal is to design low cost computer vision solutions for wildlife monitoring and conservation.

Here you can find summary of some of my recent projects (Science/Arts) with MPI-AB and CASCB.

UAV Tracking : As PI of project MELA (Mating Ecology of Lek breeding Antelopes), I am designing the software pipeline to track antelopes using video footage taken using commercially available UAVs (drones). The goal is to reliably track movement of large groups (150+ individuals) for long duration (up to 2 hrs) in a large area (using 3 simultaneously flying UAVs). The tracking results will be used to analyze leking behavior in extensive detail. Our goal is to understand mate-choice mechanism in a lek by quantifying male-male, male-female and female-female interactions.

3D Tracking (from lab to Wild): I have designed the state of the art SMART-BARN facility with Mate Nagy, where my main contribution was designing concept for 3D tracking birds (position, posture and identity) with motion capture (with markers) and using this infrastructure to further develop 3D markerless tracking. We published largest bird posture dataset with ground truth "3D-POP" in 2023 at CVPR (https://www.youtube.com/watch?v=uGMsJ0qQZrA). We are not using the dataset to tracking birds in the wild without using any markers. The method is extended to pigeons in the wild already (in review). In Aug, 2023 we have started collecting data with wild birds (Siberian Jays) in Sweden to do 3D posture tracking using similar setup (with Alex Hoi Hang Chan, Fumihiro Kano, Micheal Griesser). The big picture goal is to create large scale ML models and datasets that can be used by researchers across the globe for tracking birds without need of extensive hardware. 
Please access youtube channel for easy access to my research through videos.

Art projects and science outreach : I am working with various independent artists and institutions like Akademie Schloss Solitude and Merz Akademie since 2020. I have setup collaborations with both institutions where we exchange ideas with artists (ASS) and art students (Merz) to create collaborative art projects inspired from science. Together we try to investigate different aspects of scientific ideas with artistic perspective. Since 2021, I am a guest fellow at Akademie Schloss Solitude as part of "fieldtrip" exchange program between MPI-AB and ASS. In 2023, I did my first art event on project "Encounters with the Wild" (more info in link below). 
Highlights:
Mentor at the Driving Human, closely worked with Hyeseon Jeong and Seongmin Yuk for project Backpack of Wings ( https://drivingthehuman.com/prototype/the-backpack-of-wings-modern-mythology/)
Encounters with the Wild : My art project as part of my fellowship at ASS ( https://www.akademie-solitude.de/en/person/hemal-naik/)

Pop science articles:
VR for animals by animals (in german) : https://vigia.tech/zeitschriften/virtuelle-realitaeten/
The Dawn of Migration Science (on medium), published originally in Malayalam with Aranyak magazine which is published in collaboration with Forest Dept. of Kerala, India. 

More articles can be accessed on medium.



Curriculum Vitae
Academic Experience :
2021 - current : Post-doc, Max Planck Institute of Animal Behavior, Dept. of Ecology of Animal Societies. PI for project MELA with Vivek H Sridhar and Akanksha Rathore.

2020 - 2021 (Sept) : Post-doc Center of the Advanced Collective Behavior Studies, Dept. of Visual Computing Uni Konstanz and Dept. of Collective Behavior at Max Planck Institute of Animal Behavior. 

2014-20 PhD Candidate (TU Munich - Extend3D GmbH - Max Planck Animal Behavior).
External Collaborators : Extend3D GmbH (Feb 2014- Oct 2016).
Max Planck Institute of Animal Behavior (April 2017- July 2020).

2010-13 Masters in Biomedical Computing, TU Munich, Munich, Germany.

2004-08Bachelors in Biomedical Engineering, DJ Sanghvi College of Engineering, Mumbai, India.

Professional Experience :
Student Researcher (2011, Sept - 2013, Dec) - Extend3D GmbH, Munich, Germany.
- Computer vision tools for 3D Pose, Multi-camera Calibration, Pattern recognition, Stereo computation.

Student Researcher ( 2010- 2011, Aug) - Tomtec GmbH, Munich, Germany.
- Algorithm development for ultrasound machines.

Software Engineer (2008-2010) - Larsen and Toubro Ltd, CES Division, Mysore, India.
- Patient monitoring systems (PMS), Software developer
- Memory management, GUI and troubleshooting issues in field.

Internship :
Biomedical Intern (Summer Semester : 2007) Breach Candy Hospital Trust
- Maintenance of hospital equipment, Learning functional aspects of medical devices e.g. MRI, CT, Ultrasound.