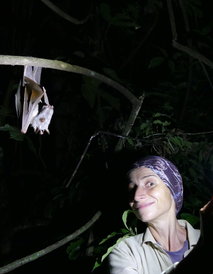 Research Scientist
Department of Migration
Research Group Dechmann
Main Focus
I am a conservation scientist and experienced as a free-lancer in various research projects and consultancies since 2006. At the MPIAB, I am building and coordinating a voluntary monitoring network for an ecological key fruit bat, the straw-colored fruit bat (Eidolon helvum), in several countries in sub-Saharan Africa, to aid its conservation and understand its movement and migration patterns (https://www.eidolonmonitoring.com/monitoring). In addition to the monitoring on the ground, our different partners raise awareness about the ecological importance of bats in many communities, thereby amplifying conservation efforts for straw-colored fruit bats and hopefully helping to prevent further decline of the species. GPS tracking comprises the second leg of my work here, and I have so far tracked straw-colored fruit bats in Cameroon, Ghana, Rwanda and Zambia, and Lyle's flying foxes (Pteropus lylei) in Thailand and Vietnam.
Generally, I like (field) working in different surroundings across the world, to always learn more about ecological interrelations, and to understand species-specific resource requirements in different ecosystems and over time. My main interests and expertise include:
b

at ecology and conservation (e.g. ecosystem services, habitat loss, bat and virus research, EIAs)

taxonomy, biology and distribution of (West and Central) African bats

GPS tracking and telemetry of bats

bat call analyses

assessment and evaluation of species composition in relation to habitat characteristics

biodiversity conservation and monitoring

bats and wind energy


capacity building (workshops, training of students/technicians)

project coordination and organization
Curriculum Vitae
Selected projects
Africa and Asia:
Coordination of Eidolon helvum monitoring network across Africa. Max Planck Institute of Animal Behavior (MPIAB), Radolfzell, Germany.
GPS-tracking of fruit bats (Eidolon helvum) and capacity building in Cameroon, Ghana and Rwanda. Max Planck Institute of Animal Behavior (MPIAB), Radolfzell, Germany.
Bat assessment in southeastern Guinea for the ESIA of a hydroelectric dam project. Oréade-Brèche, France.
Capacity building for the PREDICT Ebola Host Project in Guinea and Sierra Leone: training in bat capture, handling and identification. Mosaic/Metabiota, Cameroon/USA.
Biodiversity baseline studies on bats in the Bumbuna Phase II hydroelectric dam project area. British Trust for Ornithology (BTO), UK and ERM, Ireland.
Project coordination for an education campaign on bat conservation and Ebola in Guinea, Liberia and Sierra Leone. Bat Conservation International (BCI), Disney Conservation Fund, USA.
Bat assessment and monitoring of Eidolon helvum in the Ada region, Ghana, for the development of a wind energy project. British Trust for Ornithology (BTO) and eleQtra (InfraCo) Limited, UK.
Bat surveys in Sierra Leone and in Gabon for studies on bat malaria parasites. Max Planck Institute for Infection Biology (MPIIB), Berlin, Germany.
GPS-tracking of fruit bats and flying foxes (Eidolon helvum, Pteropus lylei) in Cameroon, Thailand, Vietnam and Zambia. Max Planck Institute of Animal Behavior (MPIAB), Radolfzell, Germany; FAO 'One Health' program; Friedrich-Löffler-Institut (FLI), Germany.
Assessment of bats and conservation implications in the Gola Forest (ARTP), Sierra Leone and Liberia, RSPB (Royal Society for the Protection of Birds), UK.
Biodiversity baseline study on bats at Putu Range, PIOM Inc., Liberia.
Assessment of bats for pilot study on bats and diseases in Industrie Forestière d'Ouesso (IFO), Rep. of Congo for Robert Koch-Institut, Berlin.
Bat survey and environmental impact assessment in the Sabodala area, Senegal, SRK Consulting, Canada.
Assessment of bats and their functional role as part of the MEDD-ECOFOR project "Biodiversity and sustainable use of gallery forests in southern Mali", funded by the French Ministry of Sustainable Development, coordinated by IRD & CIRAD, Montpellier.
Applied research on the production of Carapa oil used as biological insecticide in the cultivation of organic cotton in southern Mali as part of the ECOFOR project in cooperation with HELVETAS-Mali.
"Survey of endemic and globally threatened bat species in the Fouta Djallon Plateau for conservation priorities in Guinea", funded by Van Tienhoven Foundation for International Nature Protection, Ulm University (BIOTA project) and Conservation International.
Survey of small mammals (bats, rodents, and shrews) of Atewa Range Forest Reserve, Ghana, within the Rapid Assessment Program (RAP) coordinated by Conservation International.
Germany:
Assessment of biodiversity and ecological value of buildings for BREEAM In-use (DE) certification. Pandox AB, Sweden and Watts-on Consultants, Hungary/UK.
Acoustic assessment of Alcathoe whiskered bat (Myotis alcathoe) in forests of Lower and Middle Franconia. Bayerisches Landesamt für Umwelt (LfU), Germany.
Implementation and evaluation of environmental mitigation measures (bats, birds, sand lizards, smooth snakes) for electrification of German railway. PHV Service Tharandt, Germany.
Field work and data analyses for environmental impact assessments on birds and bats (wind energy, road construction, construction areas, quarries). Büro für Faunistik, Naturschutz und Biostatistik Burkard Pfeiffer (FNB), Germany.
Bat call analyses for environmental impact assessments at wind farms in Germany and Switzerland. Dr. Oliver Behr, Germany.