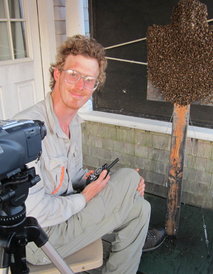 Prof. Dr. Michael L Smith
Affiliated Scientist
Department of Collective Behavior
Main Focus
Michael Smith is a social insect biologist interested in the patterns and processes of colony growth, development, and reproduction. Michael completed his PhD in 2017 with Tom Seeley, in the Department of Neurobiology and Behavior at Cornell University.  There, he studied honey bee colony puberty, and how workers detect that their colony can "afford" to invest in reproductive infrastructure (drone comb). In the Couzin group at the Max Planck Institute of Animal Behavior, Michael will use automated tracking to investigate how individual honey bee workers detect and respond to the developmental state of their colony.
Curriculum Vitae
Education
PhD     2017             Cornell University, Ithaca, NY
                                  Department of Neurobiology and Behavior
                                  Advisor: Thomas D Seeley    
                            Dissertation Title: Growth, development, and reproductive investments in
                            honey bee colonies
BA      2010              Princeton University, Princeton, NJ
                                  Department of Molecular Biology
                                  Advisor: Mark D Rose
                                  Thesis Title: Mating induced transcription factors Kar4p and Ste12p –
                                                overexpression toxicity in Saccharomyces cerevisiae
IB        2006              United World College of the Atlantic, Wales, UK
2018-present   Simons Foundation Postdoctoral Fellow, Dept. of Collective Behavior,
                    Max Planck Institute for Ornithology / University of Konstanz
                        Advisor: Iain D Couzin
2011-2017       PhD Research, Dept. of Neurobiology and Behavior, Cornell University
                        Advisor: Thomas D Seeley
2010-2011       Rotary Ambassadorial Research Scholar, Bijen Group at Plant Research
                        International, Wageningen University and Research
                        Advisor: Tjeerd Blacquière
2009-2010       Research Assistant, Dept. of Biological Sciences, Wellesley College
                        Advisor: Heather R Mattila
2008-2010       Undergraduate Research, Dept. of Molecular Biology, Princeton University
                        Advisors: Mark D Rose, Alison E Gammie
2018                Zukunftskolleg Associated Fellow
2018                Heidelberger Akademie der Wissenschaften: How Collectives Decide?
2017                Simons Foundation Postdoctoral Fellow: Life Sciences Research Foundation
2017                Eastern Apicultural Society: Student Award
2016                1st place in Oral Competition: International Congress of Entomology
2015                Ig Nobel Prize in Physiology and Entomology
2014                Best Poster Award: Neurobiology and Behavior 50th Anniversary Symposium
2014                Most Innovative Award: Harry W Greene GCS Competition
2011                National Science Foundation Graduate Research Fellowship Program
2010-2011       Rotary Ambassadorial Scholar
2008                Kathryn W. Davis 100 Projects for Peace
2004-2010       Davis United World College Scholar
2004                Boy Scouts of America: Eagle Scout