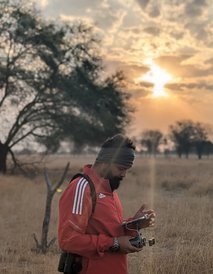 © HemalNaik
Dr. Hemal Naik
Postdoc
Department for the Ecology of Animal Societies
Main Focus
Key Words : Computer Vision, Problem Solving, Birds, Perspective Geometry, AR-VR. 

My research focuses on developing computer vision algorithms for practical applications. I prefer to work on concepts which can be implemented in near future to improve existing practices or methods. I am learning how to identify similar problems in different fields and transfer solutions from one field to another. My future goal is to design low cost computer vision solutions for wildlife monitoring and conservation.

My PhD research is mainly divided in to two parts. In the first part, I worked with Extend3D GmbH to develop Spatial Augmented Reality (SAR) based concepts to solve problems in high precision manufacturing processes. I developed methods to compute 3D position and orientation of industrial objects with sub millimeter accuracy. I also learnt practical aspects of setting up a multi camera-multi projector system.

Currently, I am working on final part of my PhD research with Collective Behavior group at Max Planck Institute of Animal Behavior. My work focuses on developing methods for computing 3D posture of birds from video footage. I am part of a multidisciplinary team which has set up a multi-modal facility (15 meter x 7 meter x 4 meter) capable of tracking 3D movement of animals using both optical and acoustic tracking (https://youtu.be/-aa2QI7tOLM?t=290). 3D posture computation for animals is poorly studied topic in the vision community when compared to human posture problem. My aim is to push research in this domain and discuss the topic of animal tracking further in the computer vision community with new set of challenges.

Curriculum Vitae
Academic Experience :

2020 (Sept) : Post-doc Center of the Advanced Collective Behavior Studies, Dept. of Visual Computing Uni Konstanz and Dept. of Collective Behavior at Max Planck Institute of Animal Behavior. 

2014-20 PhD Candidate (TU Munich - Extend3D GmbH - Max Planck Animal Behavior).
External Collaborators : Extend3D GmbH (Feb 2014- Oct 2016).
Max Planck Institute of Animal Behavior (April 2017- July 2020).

2010-13 Masters in Biomedical Computing, TU Munich, Munich, Germany.

2004-08Bachelors in Biomedical Engineering, DJ Sanghvi College of Engineering, Mumbai, India.

Professional Experience :
Student Researcher (2011, Sept - 2013, Dec) - Extend3D GmbH, Munich, Germany.
- Computer vision tools for 3D Pose, Multi-camera Calibration, Pattern recognition, Stereo computation.

Student Researcher ( 2010- 2011, Aug) - Tomtec GmbH, Munich, Germany.
- Algorithm development for ultrasound machines.

Software Engineer (2008-2010) - Larsen and Toubro Ltd, CES Division, Mysore, India.
- Patient monitoring systems (PMS), Software developer
- Memory management, GUI and troubleshooting issues in field.

Internship :
Biomedical Intern (Summer Semester : 2007) Breach Candy Hospital Trust
- Maintenance of hospital equipment, Learning functional aspects of medical devices e.g. MRI, CT, Ultrasound.