Pets studied to develop disaster forecasting
MPI-AB joins forces with GPS pet tracking company - Tractive - to explore if dogs and cats can detect natural disasters before they happen.
The Max Planck Institute of Animal Behavior (MPI-AB) is collaborating with Tractive, a global provider of GPS and wellness tracking solutions for dogs and cats, to use real-time animal activity data from almost a million pet GPS trackers in the field. The collaboration will give rise to new insights into the health and behavior of pets—and will even help to determine if pet behavior could act as a pre-warning system for natural disasters, such as earthquakes.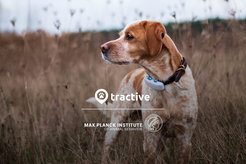 Pets as potential pre-warning system
Despite advances in science and technology, no major earthquake has ever been reliably predicted. But for millennia, people across the globe have reported that animals behave unusually hours before earthquakes. These reports of animals detecting disasters are difficult to confirm scientifically: doing so requires animals to be continuously monitored before, during, and after disasters—and for that behavior to be relayed and analyzed in real time.
Now, Tractive and MPI-AB are partnering to develop AI algorithms that deliver real-time animal activity—providing the data urgently needed to determine whether pet animals could act as a pre-warning system.
"We are very excited to be working with the Max Planck Institute of Animal Behavior on this important research," said Tractive CEO, Michael Hurnaus. "Our goal is to provide pet parents with reliable, real-time information about their pets' health and behavior, and this collaboration offers the potential to unlock new insights into pets' behavior based on the activity data retrieved from almost a million Tractive pet trackers around the world.
"We also share the hope that pet activity data could contribute to developing a pre-warning system that would reduce the devastating human toll of natural disasters."
Martin Wikelski, a Director at MPI-AB, has led some of the most recent science into animal disaster forecasting by monitoring farm animals to see if they can sense seismic activity in advance.
Wikelski said: "We are proud to be working with Tractive on a project with such far reaching implications for public safety. Pets live where humans live, and Tractive's global network provides a powerful tool that will help us answer the essential question of whether animals can provide useful information for early warning disaster systems."
AI-powered algorithm to see changes in animal's activity level
The Tractive trackers, equipped with an AI-powered VeDBA (Vectorial Dynamic Body Activity) algorithm, will provide the data necessary for the research. The VeDBA algorithm is designed to monitor and analyze changes in an animal's activity level, which may indicate that an animal is sick or stressed. The partnership with MPI-AB will allow for a more in-depth analysis of this data and the potential development of new algorithms. For the purposes of disaster forecasting, for example, these would include algorithms that automatically scan for sudden or unusual changes in activity of many pets in one location.
"If we see hundreds of pets acting unusually in one place, then we'd expect a major event to be hitting there in the near future," says Wikelski. "That's why this partnership with Tractive represents such a leap. For the first time, we have the tools to study this behavior in so many animals in so many locations around the world."
About the Max Planck Institute of Animal Behavior
Max Planck Institute of Animal Behavior is one of the world's leading research institutions, focusing on studying the movement and decision-making of animals in the natural world. MPI-AB is at the forefront of quantitative, non-invasive techniques of collecting and analyzing behavioral data to reveal processes on local to global scales.
About Tractive
Tractive is the leading provider of GPS and health tracking solutions for dogs and cats. The company's mission is to help pet parents keep their pets safe, healthy, and happy. With millions of pets around the world, Tractive is dedicated to improving the lives of pets and their owners.
The team includes people of over 40 nationalities across Pasching (Austria) and Seattle (USA) working on the future of pet safety and well-being.