Photographic gold
Christian Ziegler's photo of a rare bonobo behavior is honored in Wildlife Photographer of the Year 2022
The male bonobo in the photograph is beautiful—his black hair gleaming and calm face bathed in sunlight. But it's what he holds in his hand that steals the shot: a wide-eyed, baby-faced mongoose pup. The golden mammal is held so tenderly in the bonobo's fingers that the pair almost seem affectionate.
Almost. How the animals feel about each other remains an enigma, and the fate of the mongoose is unclear. In any case, the rare interaction, captured by photographer Christian Ziegler for the LuiKotale Bonobo Project, was awarded Highly Commended in this year's Wildlife Photographer of the Year (WPY) competition.
The image is one of 15 Highly Commended images released today by the prestigious WPY competition, which received nearly 40,000 entries from 93 countries. The winning images, including the Grand Title Award and Young Grand Title Award, will be announced on 11 October 2022.
'Chest-deep in a flooded forest'
Ziegler, an award-winning photojournalist with the Max Planck Institute of Animal Behavior (MPI-AB), is no stranger to fieldwork. A tropical ecologist by training, he has worked on assignment in rainforests on four continents. But even the jungle veteran admits that photographing wild bonobos is not for the faint of heart. "You start at five in the morning to follow the group, and usually end up wading chest-deep through a flooded forest or running like mad to keep up with them," he says.
The opportunity to photograph bonobos (Pan paniscus)—a species of great ape found only in the Democratic Republic of the Congo (DRC)—came through a collaboration between Ziegler and MPI-AB scientist Barbara Fruth. For 20 years, Fruth and her husband, Gottfried Hohmann, have led a long-term project at the LuiKotale field site in the Congo basin studying two wild bonobo groups.
Over the years, the bonobos at LuiKotale have become familiar with human observers, which meant that Ziegler could capture astonishingly intimate photographs from as close as five to ten meters. "It was amazing be allowed so near the groups," he says. "Bonobos are such intelligent, sociable animals. Being in their presence feels not unlike being with a group of humans."
Starting before dawn, Ziegler would track the bonobo groups for hours as they went about their daily business: foraging, grooming, squabbling. One day, as he hung around a group looking for fallen fruits, he saw the winning shot. "I noticed that one of the young males was holding a juvenile mongoose in his hand," he remembers. "I was so surprised to see how he carried the mongoose with such care that I immediately started to follow him and document this unusual behavior."
As the male bonobo gently stroked the mongoose for over an hour, Ziegler photographed a range of detailed images—no easy task on an overcast day in a dark forest. "To capture the scene in such dim light, I needed to use a very high ISO, up to 25,600, which would not have been possible on cameras ten years ago," he says.
A rare encounter
As well as being an artistic and technical triumph, the image is notable for chronicling a rare encounter between a wild bonobo and its prey. Bonobos live largely from plants, but also hunt diverse mammals including mongoose. "Meat is usually shared among the group," says Fruth who leads the Bonobo Behavioral Ecology group at the MPI-AB.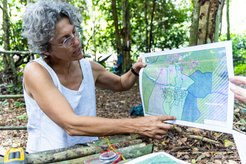 In rare cases, however, prey can be kept alive. "It can happen that when their appetite is satisfied, bonobos will keep leftover prey as pets," she says. Because these individuals are later ingested, Fruth says "this behavior cannot be labelled as care-taking." In the particular case in the photograph, the male eventually released the mongoose pet, which makes Fruth wonder if the unusual behavior was socially motivated. "It's possible that pets may be kept to attract interest from other group members, thereby potentially increasing the status of the handler," she says.
A powerful partnership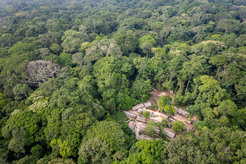 Bonobos—together with their close cousins the chimpanzee—are our closest living relatives. Their isolation in central Congo, separate from other African apes, has given rise to a social system that appears to be unique among nonhuman primates: females are dominant over males; males retain a life-long bond with their mothers; and physical aggression is tempered by strong social bonds.
In the early 2000s, Fruth and Hohmann built a few thatched huts at the edge of the Congo basin and opened the LuiKotale field site. Thanks to long-term monitoring, the project has captured entire life cycles from two wild bonobos groups, both of which are habituated to the scientists' presence. As one of the few initiatives worldwide that study the behavior and ecology of bonobos, the LuiKotale Bonobo Project has discovered behaviors that were unknown to the species' natural history.
"Seeing bonobo females being the ones hunting, possessing meat, and coordinating sharing among group members was one of the most striking findings when we started our project," says Fruth. "In a world used to human and animal societies being ruled by males, it was exhilarating to document female dominance in the wild."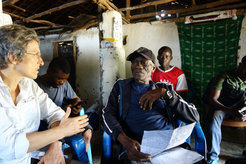 But along with the scientific highlights, the project scientists have witnessed the threats facing the endangered apes, including hunting and habitat loss. In order to protect wild bonobo populations, the LuiKotale Bonobo Project works with the Bonobo Alive conservation initiative to engage in anti-poaching patrols as well as social projects in villages surrounding the study site. By bringing Ziegler's photographic skills to LuiKotale, the team hope to spur conservation by translating the research into a message everybody can understand.
"Captivating the human population, both locally and globally, is key to preserving bonobos and the natural heritage of the Congo basin," says Meg Crofoot, a primate researcher and director at the MPI-AB. "But most of us will never see a bonobo in our lifetime, and so Christian's photographs allow us all to bear witness to an extraordinary animal society trying to cling on in a rapidly changing world."
About Christian Ziegler
Christian Ziegler is a photojournalist specializing in natural history and science-related topics. Working as an outreach photographer for Max-Planck Institute for Animal Behavior in Konstanz, he is also regular contributor to National Geographic magazine, and has been widely published in other magazines like GEO. Christian's aim is to highlight species and ecosystems under threat and share their beauty, and importance with a broad audience. Christian's work has been awarded prizes in the Wildlife Photographer of the Year and the European Wildlife Photographer of the Year competitions, and in 2017, he was honored with the Outstanding Nature Photographer award by the North American Nature Photography Association. He has also won four World Press awards in 2013, 2014, 2015 and 2016.
About LuiKotale Project
The LuiKotale Bonobo Project is one of the few initiatives worldwide that studies the behavior and ecology of bonobos living in the mosaic of swamps and primary forests that are representative for large parts of the central Congo basin. Launched in 2002 by Barbara Fruth and Gottfried Hohmann with support from the Max Planck Society, the project has compiled a long-term data base on bonobo behavior and ecology—a rare achievement in the history of field research on this species. Multiple groups of bonobos have been habituated to the presence of humans and are monitored daily, allowing entire lifecycles of many individuals to be studied. In order to protect wild bonobo populations, the LuiKotale Bonobo Project jointly with the national conservation authority ICCN, engages in anti-poaching patrols as well as social projects in villages surrounding the study site supported by the Bonobo Alive conservation initiative.