Institute Seminar - Lior Lebovich & Kate Tiedeman
Institute Seminar by Lior Lebovich & Kate Tiedeman
Date:

Jun 28, 2022

Time:

10:30 AM - 11:30 AM

Speaker:

Lior Lebovich & Kate Tiedeman

Location:

online

Room:

Online

Host:

Max Planck Institute of Animal Behavior

Contact:

all.science@ab.mpg.de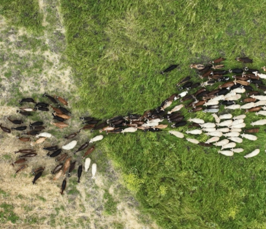 Collective dynamics under spatial constraints (by Lior Lebovich) + The influence of landscape features and household characteristics on risk of damage by African elephant, lion, hyena, and primates in the western Serengeti (by Kate Tiedemann)
Collective dynamics under spatial constraints (by Lior Lebovich)
Habitats are typically characterized by heterogeneous environments. This includes, among other components, variable topology, animal trails, roads and natural obstacles (e.g., trees, rocks, dense vegetation). Such environmental components form geometric constraints that affect the collective behavior of terrestrial animals. However, characterizing the mechanisms underpinning the effect of such constraints on the collective dynamics is challenging given the many sources of variability that multiplicatively add to the spatial complexity of natural habitats. In our pioneer study, we will investigate such effects in a controlled field experiment. Goats will be introduced to artificial obstacles in a flat and dry field and their behavior will be tracked using drone footage and state of the art vision techniques. We believe that studying collective behavior in this novel controlled field design is a crucial step in understanding the mechanisms underlying collective processes in more complex and naturalistic environments. During the talk, I will present our experimental designs as well as planned feasibly tests and will appreciate all inputs and suggestions.
The influence of landscape features and household characteristics on risk of damage by African elephant, lion, hyena, and primates in the western Serengeti (by Kate Tiedemann)

In agriculturally dependent regions interspersed with wildlands, crop damage and livestock depredation by wildlife threaten rural livelihoods and undermine conservation efforts. Determining the species, human activities and landscape features correlated with losses to wildlife is critical for developing effective mitigation approaches. To better understand drivers of wildlife damage, we surveyed 419 households in the western Serengeti of Tanzania about agricultural practices and wildlife-induced losses. Using hierarchical Bayesian models, we assessed the influence of environmental and household characteristics on damage by different wildlife species. Crop loss to elephants was the most widespread form of damage, while crop loss to baboons and vervet monkeys were less common. Livestock depredation by hyena was widespread and common, while depredation by lion was rare and localized. Overall, crop loss to elephants was the most common form of damage, followed by hyena depredation. The risk of crop and livestock damage was consistently and negatively associated with human disturbance, and positively associated with farm and herd size. The influence of other factors, including woody cover, slope, and distance to settlements, varied across forms of damage and species. While generalized approaches to mitigation offer some promise, the interspecies variability in the drivers and spatial extent of crop damage and livestock depredation suggests that species-specific mitigation strategies will be more effective. Multi-species assessments offer broad insights into human-wildlife interactions and can aid in the identification and prioritization of mitigation measures.