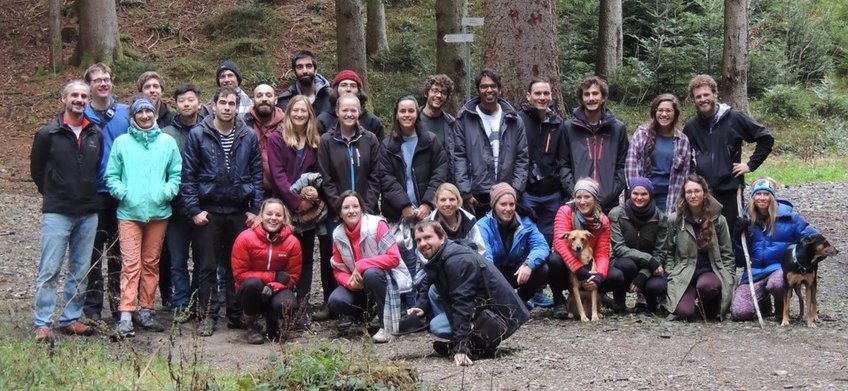 Applications
Click below for IMPRS-QBEE's current projects for application call 2022!
International Max Planck Research School for Quantitative Behavior, Ecology and Evolution from lab to field (IMPRS-QBEE) will continue to develop in the foundations of the former school, IMPRS for Organismal Biology, and the strong collaborative bonds between the newly founded Max Planck Institute of Animal Behavior and the Department of Biology at the University of Konstanz.
The IMPRS-QBEE announces a call for applications for admission in 2022. We seek to prepare young motivated researchers with the minimum entry requirement of either a Master's or an equivalent degree level, and in exceptional cases, graduates with a 4-year Bachelor's degree (BSc with honours during which you must have completed a research project and a written thesis work) in a related subject, would be considered. It is not necessary to hold the degree at the time of application, however accepted applicants need to have the degree award before starting their doctorate. Latest starting date is October 1st, 2022
The quality of the degrees (i.e. eligibility) will be checked by University of Konstanz on a case-by-case basis. Those who do not fulfil the minimum requirements, will have to complete further course work during their doctoral studies. Candidates need to be fluent in written and spoken English and - unless native speakers - have to document their proficiency in the language (e.g. TOEFL). German is not required, but students from abroad will be offered opportunities to take German courses.
How to apply?
Please access our exciting new doctoral projects through our current website. The link to out tool will be published here in due time.
The deadline for applications is mid-January 2022.
Required documents are:
Curriculum Vitae (CV);
Transcript of records (record of study) and degree certificate of bachelor (BSc) degree (minimum of 240 ECTS points), Vordiplom or equivalent degree;
Transcript of records (record of study) and degree certificate of Master (MSc) degree, Diplom or equivalent degree (if applicable). If your degree programme is not yet completed, please provide temporary transcripts;
two letters of recommendation, will be required, please ask your previous MSc supervisor;
High school degree transcripts or equivalent, if German applicant;
Letter of Motivation (max. 1 A4 page) specifically addressing why the selected project(s) /research group were chosen.
Recommended documents are:
certificate of proficiency in English (recommended if not native English speaker or education was not in English);
scholarships, prizes and awards (if applicable);
portrait picture (optional);
A GRE subject test in either biochemistry, biology, mathematics, physics or related subject. A GRE subject test is recommended if you come from a non-EU country, this will strongly support any application (for applicants from India we also accept GATE);
International experience.
What we expect of our future IMPRS students:
strong scientific motivation;
serious interest in the activities of the doctoral programme.